Give Your Home the Ultimate Finishing Touch
Our exterior shutters are designed to deliver a lifetime of elegant, maintenance free beauty at affordable low prices. They are an ideal accent for giving your home additional dimension.
Because we are the factory, (all shutter panels are proudly built in Southern California, USA.), our shutters offer virtually unlimited possibilities to express your home's unique style, as we will make them to your exact specifications. You are limited only by your imagination. Your taste and how you feel about your home's look guides you in your choice of shutter style.
Our solid wood exterior shutters are made from solid kiln dried, rot-resistant incense cedar or western red cedar which is a very durable wood that is resistant to decay and requires little maintenance. This fine grained wood has natural tannins to help preserve its character. Other woods used for making shutters such as pine or poplar, do not enjoy such an advantage. Kiln drying is time consuming and expensive, but it is important because it reduces the moisture content therefore allowing less expansion and contraction, enhances durability and acceptance of finishes.
Each shutter panel is hand assembled and individually built on site in our Southern California Facility. Hand sanding assures a smooth finish for each shutter once assembled, and will be delivered to you unfinished, sanded and ready for paint, stain or primed only. We Do NOT finish or install exterior shutters.
We want to make your exterior shutter purchase a positive experience, because our fine shutters are likely to be a once in a lifetime event. Remember, we've been around since 1966 so we've probably heard your situation many times before and most likely have a solution. Please call us with any questions or visit our online portfolio at shuttersandmore.com.
We can ship our exterior shutters nationwide right to your house.
How do you go from looking at beautiful shutters on-line, to looking at beautiful shutters on your home?
We want to make it easy for you to get the beautiful shutters you desire. Call us at 1-800-882-2223 and talk to a shutter professional who can help you find the shutter that fits your house perfectly. Just follow the easy directions which will give you clear, step by step instructions for selecting, ordering and installing exterior shutters. And remember we are here to help, so call us with any questions you might have.
It is easy to order new exterior shutters or replacements to match or add to your existing.
Just call our showroom 1-800-882-2223, or fax your order to 1-818-772-0490.
How to measure your shutter sizes:
Whatever style you choose, correctly sizing the shutter to your window is critical! We will build your shutters to your exact specifications, so make sure your measurements are accurate. Whether your shutters will be functional or not, size them as if they would be. Measure the window on the inside edge of the casement, as if the shutters would be closed. This measurement is the "pair width" (equal to twice the width of one shutter). If your shutters will be functional, deduct approximately 1/2" for clearance. If your shutters will remain open at all times, rounding off to the closest inch is acceptable.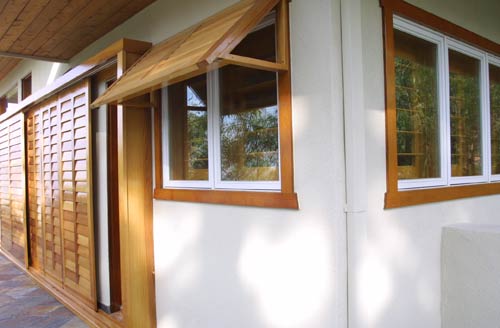 First measure the window width. Then divide the window measurement in half to determine the approximate width size of each shutter panel. Then measure the height which is the full height of the window opening.
Most exterior shutters are fixed in place and are non functional and screwed directly to the sides of the window opening. They will not close, but they will add depth and character to your home's elevation. They can be fully operable and functional with the use of exterior hardware.
Note: For panels that will be fixed to the wall and non functional, an exact size is not necessary, however with functional panels, the panel size is critical and it may be easier to order the panels slightly larger and trim them on site for a perfect fit. Note: you can trim 1" from the bottom rail and 7/16" from each side stile. Should you need any guidance, we've provided some helpful ideas and information to get you started. Our Shutter Professionals are always available to discuss any questions you may have. The finest, handmade wooden shutters in the world are just a phone call away.
Disclaimer and Limited Warranty: Exterior Wood Shutters
Although we do use wood and other materials that are suited for outdoor use, over time wood might be damaged by the elements, including sun, rain, abrasion, heat, salt, cold, or insects, and might warp, twist, dry, fade, crack or be subjected to other harm.  For that reason, exterior wood shutters are subject to this Disclaimer and Limited Warranty. 
Shutters and More, Inc. dba Los Angeles Shutter Company ("Shutters") warrants, to the original purchaser ("Purchaser") only, that our exterior wood shutters will be free from defective materials and workmanship, when properly maintained and under normal use and service.  Purchaser's sole remedy under this warranty is the repair or remanufacture of the defective product by Shutters.  We reserve the right to inspect products prior to any repair or remake.  Shutters will not be responsible for any repairs by another party.  This warranty does not imply automatic replacement of any product.  This warranty and all of Shutters' obligations stated herein shall not apply to: (1) any improper installations, finishing or maintenance; (2) any progressive deterioration of finishes and materials due to sun, rain, abrasion, heat, salt, cold, insects and/or exposure to corrosive environments; or (3) damage by misuse, abuse, vandalism, accident, or act of God.  Shutters reserves the right to repair or replace any product at our own discretion.
Shutters is not liable for the costs relating to removal of the exterior shutters and the reinstallation, or damage to the window frame, glass or any other portion of the window surroundings. This warranty does not cover installation or removal costs.
There is no express or implied warranty, representation or condition of any kind (including without limitation warranty of merchantability or of fitness for use) except for the express warranty stated herein, and no further warranty shall be implied by law.  Shutters has no liability, whether in contract, in tort, under any warranty, express or implied, in negligence or otherwise, and under no circumstances shall Shutters be held liable for indirect, punitive, special, incidental, or consequential damages or losses that anyone may suffer or incur in connection with use of exterior wood shutters.
This warranty is the complete, final and exclusive agreement of the parties with respect to the quality and performance of the exterior wood shutters and with respect to any and all representations related to the exterior wood shutters.  No modification or waiver of its terms, shall be binding on either party unless approved in writing by both parties.  This Disclaimer and Limited Warranty, and the rights and duties of the parties under it, shall be governed by the laws of the State of California.

Pick up, Delivery or Shipping: (Nationwide Shipping)
We will call you as soon as your order is ready
You can pick them up at our showroom/factory facility
We can deliver them to your home or job site
We can ship them to you. We are proud of our shipping history. We can ship our exterior shutters nationwide right to your house. Standard Size panels usually ship within 4 to 5 weeks. Standard size orders are shipped by UPS ground or FedEx ground. The packing and shipping charge is 8.5% of the order total cost (minimum $20.00). Oversized panels require a higher than standard shipping charge. Actual delivery times are determined by carrier's schedules, so we cannot guarantee delivery dates, however, when your order ships, we will notify you by e-mail which will include tracking numbers enabling you to track your shutters on line. You can expect our high quality and service in your purchase and we encourage you to inspect your shipment upon receipt.
Once you receive our shutters, examine your purchase and double check that we have met your expectations. Upon inspection, you will notice an exceptional product, and you will be ready to install our shutters yourself.
Exterior shutter installation:
The panels should not be attached flush with the exterior wall, since moisture can be trapped behind the panels. The shutters should be screwed or lagged to the exterior surface of the house with rust proof screws. Pre-drill and countersink all screw holes and attach a rubber washer between the back of the shutter and the building so as to allow the water and ventilation to pass between the shutter and the exterior surface of the house. Fill the screw holes with wood filler or calking and touch up paint as required. These simple instructions explain everything you need to know to install your shutters yourself and to enjoy your new shutters without the need to hire someone to help you install them. You are easily turned into an installation professional, but we're still here to help if you need us. To protect your shutters, we will also send you a free exterior shutter cap to protect them from moisture. It is made of bonderized aluminum which can be painted. To attach the cap protector, just add a bead of calk to the top of the panel and squeeze the cap on (no screws or nails)